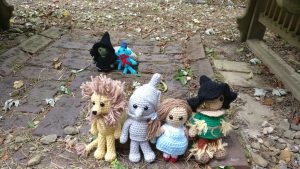 So I wanted to make a Wizard of Oz set for yet another Norbert pattern. I found this wonderful pattern for Wicked Witch(which take some time to look at her other lovely patterns! I have loved her work and never had a problem with any of the patterns.), but there wasn't one for the Scarecrow or Lion. So I based Dorothy off of her pattern to make the set… however, I did goof and forgot to get a picture of just her.  I'll make up another and get it pictured. Other links: Scarecrow, Tin Man, Cowardly Lion and Flying Monkey
Worsted weight yarn in colors desired, G Hook and 9mm safety eyes
head and body, start with brown (hair color, not strictly necessary, but it will help with the look when her hair is parted at the top)
1. 6 sc in magic circle
2. *inc* around
3. *inc, sc in next* around, change to skin color
4.  *inc, sc in next 2* around
5.  *inc, sc in next 5* around
6-11. sc around, place safety eyes between rounds 8-9
12.  *dec, sc in next 5* around
13.  *dec, sc in next 2* around, make sure to stuff and continue to stuff as you go
14.  *dec, sc in next* around, change to white
15. *inc, sc in next* around
16.  *inc, sc in next 2* around
17-18. sc around, change to blue
19. sc around
20. sc around in BLO
21-22. sc around, change to white
23. *dec, sc in next 2* around
24. *dec, sc in next* around
25. *dec, sc in next 2* around, bind off and close hole
Dress in blue
attach yarn in any of the round 20 FLO with the head facing down
1. *inc, sc in next 2* around, do NOT join, but continue to work in a spiral
2-5. hdc around, bind off and weave in end
legs, start with red and make sure to stuff as you go
1. 6 sc in magic circle
2-3. sc around, change to white
4. sc around
5.  sc around, change to skin color
6-7.  sc around
8. sc around, change to white
9.  sc around
10. sc around, bind off and sew onto body
arms, start with skin color, very lightly stuff as you go, but I just needed the ends from the color changes
1. 6 sc in magic circle
2-5. sc around, switch to white
6-7. sc around, bind off and sew onto body
apron, with blue, leaving a long tail for sewing
1. ch 6, sc in 2nd ch from hook and across, ch 1 and turn
2. sc across, ch 10 and leave a long tail and bind off.
connect yarn to the opposite corner of the round you just finished and ch 10, leave a long tail and bind off.
sew front apron where dress begins on body, chains are to go up and over the arms to connect in the back.
hair, in brown
I cut about 9″ lengths of yarn and hooked them into the head making sure to have a middle part.  Then bring it forward for little low pig tails and tie with some blue yarn.
Mad Hooking!